PEMSEA developed the State of the Coasts (SOC) reporting system to help governments and other organizations monitor and report on implementation of their Integrated Coastal Management (ICM) programs, including impacts and benefits. The SOC enables documentation and measurement of the effectiveness of policy and management interventions in support of sustainable coastal development. 
The SOC includes 35 simple, meaningful core indicators to evaluate the impact of ICM implementation over time. These measureable indicators are used to monitor social, economic and environmental changes in coastal systems, such as having coastal strategies in place, habitat protection initiatves and the quality of air and water. Below is an example of the State of the Coasts Report indicators of Guimaras, a coastal province in the Philippines.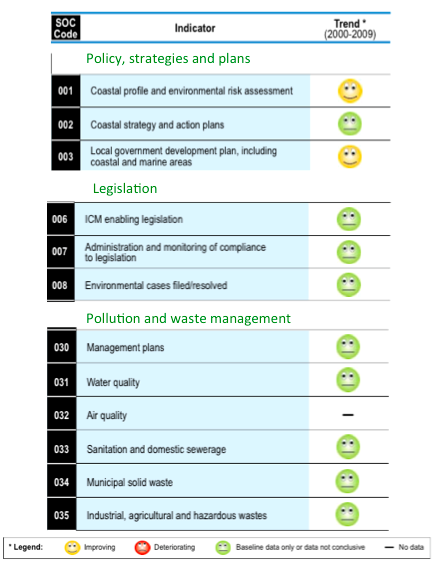 PEMSEA provides technical assistance in the following stages of SOC implementation:
Initiation of SOC reporting, including the establishment of SOC technical/task teams and development of action plans.

Data consolidation and validation, including training workshops or on-the-ground field validation.

Data analysis and interpretation relevant to coastal systems.
SOC reports have been published for Batangas and Guimaras (2012 and 2018) in the Philippines, as well as Masan Bay in South Korea and Dongying in China. 
SOC reporting provides a number of benefits:
An integrated and comprehensive evaluation process for ICM implementation that serves as a basis for reviewing and improving the management of coastal resources.

Validation of policy, environmental, social and economic conditions in coastal areas to support policy development and decision-making.

Systematic monitoring and alignment with local, national and international sustainable development targets.

A standardized monitoring process allowing comparison across multiple ICM program sites.
Latest Reports
The latest series of national State of Ocean and Coast reports can be accessed through the following links: